Iwoland Young Graduates Appreciate FG, Others On Federal College Education Iwo, Osun State.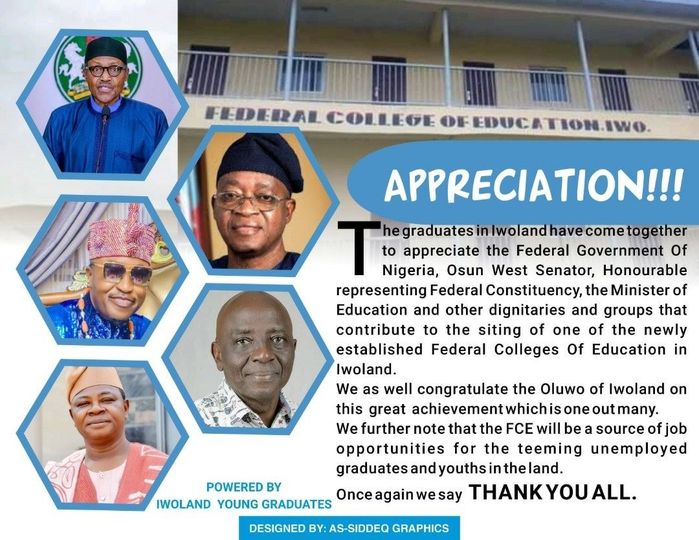 The graduates in Iwoland has come together to appreciate the Federal Government of Nigeria under the leadership of President Muhammadu Buhari over the siting of one of the newly established Federal Colleges of Education in Iwoland.
In an appreciation post by the young intellectuals, we collectively extend our appreciation to the State Governor, Governor Gboyega Oyetola, the ruling party APC, and other political parties that contributed in one way or the other for the actualization of the institution in our land.
While we do not overlook the efforts of Oluwo of Iwoland, Oba (Dr.) Abdul Rasheed Adewale Akanbi Telu 1 and all the royal fathers in the land, the Osun west Senator, Senator Adelere Oriolowo, the Federal Honorable representing AYIWOLA, Hon. Akintola Yinusa Amobi, Ministry of Education, Iwo Board of Trustees (IBOT), Iwoland Muslim Community, Christian Association of Nigeria (CAN), and other dignitaries and groups involved, we are confident the institution will add value to our land in so many ways.
The Iwoland graduates further note that the FCE will be a source of job opportunities for the teeming unemployed graduates and youths in the land.
Once again, we appreciate this special gift and it won't be taken for granted.
God Bless Iwoland
God Bless For Nigeria.
*©Iwoland Young Graduates*