HON. YINUSA AKINTOLA AMOBI HOST THE MANAGEMENT OF FEDERAL COLLEGE OF EDUCATION, IWO AT HIS CONSTITUENCY OFFICE.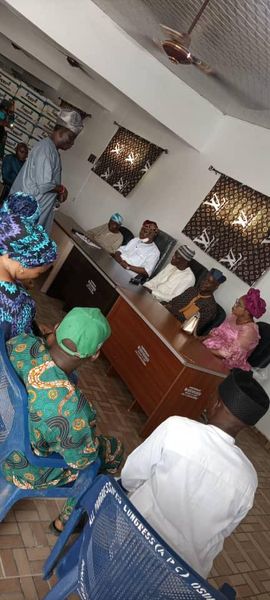 On 20th of June, Hon. Yinusa Amobi, the member house of representative, representing Ayedire, Iwo and Olaoluwa federal constituency hosted the Management of the Federal college at his constituency office, Iwo.
The Provost of the College, Prof. Rafiu Adebayo Ibrahim who led other members of the management introduced the Chief Librarian Dr. (Mrs.) Funmilola Iyanda, the Bursar, Dr. Fatai Lasisi and the Registrar, Alh. M. A. Yusuf.
The Provost, Prof. Adebayo appreciated Hon. Amobi for his efforts on the achievement, bringing the college of Education to Iwo.
He said it is really a commendable efforts and he prayed that God would always reward and bless all his endeavors.
The Provost also commended Hon. Amobi for all he had been doing to bring dividend of democracy to his constituency for his people to benefit.
On behalf of the management of the FCE, the Provost made a request from Hon. Amobi not to relent on his support to making sure the FCE become a great and conducive citadel of learning. He also requested that the College need more support on facilities such as office chairs and tables, and other facilities for the comfort study of the students as the academic session is gradually going to start.
Hon. Amobi having listened to all that was said by the Provost on behalf the management, he also appreciated them and promised his continuous support to the FCE. Hon. Amobi said he is not doing the support for the management alone but also to make sure his constituency become great and for the FCE to become a great opportunity to the people of the constituency.
Hon. Amobi briefly told the management about his efforts to make sure the federal government fund the FCE with collective effort of Senator Oriolowo, the Osun west senator. He added.